Pinterest have revealed the three top trends of engagement rings and bridal trends that are top of their pin and search for 2018.
Moissanite Gems

(+294%)
This is a massive increase and a major surprise for us. Moissanite is crystals that are composed of silicon carbide, and very similar in appearance to a white diamond. As moissanite is incredibly rare, the moissanite available today is lab created – and deliberately engineered to give the illusion of a diamond. As they are lab created they are dramatically lower in price compared to the diamond which is one reason why the newly engaged are attracted to them. The creators of moissanite are not hiding that they are anything other than lab created, they are promoting this as the top reason to buy the stone as they suggest lab created is eco-friendly.
Art Deco (+173%)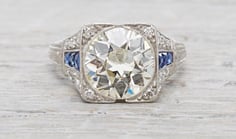 Photo Credit: Erstwhile Jewellery
This trend is only getting bigger and bigger every year – the latest vintage trend of course is Art deco – due to the slew of vintage style royal engagement rings over the past few years

Oval Stones (+125%)
Photo Credit: www.dailymail.co.uk
Oval shaped stones are becoming more popular than round and emerald cut stones for engagement rings – as this leap in pins shows, but the growing trend has been around for some time now. The 'Catherine effect' hasn't just raised the profile for blue sapphires but oval shaped stones too. Plus the elongated shape makes the finger look longer and more slender – so it's very flattering for the bride to be.