What wind is to fire, freedom is to creativity. This could not be truer when the metal in the spotlight is titanium. It is light, yet strong, and colourful with an iridescent sheen – a revolutionary metal in high-jewellery creations. Titanium takes its name from the Titans of Greek mythology – symbolising the incarnation of natural strength – sons of the Earth goddess.
It is also known as the strongest among metals, and used in spaceships, and in hi-tech medicine.
So, why high jewellery?
---
"Although it is extremely tough for crafting, titanium can effectively reduce a jewel's weight, being one of the lightest metals in the world – only one-fourth of the weight of gold," says Hong Kong jewellery designer Cindy Chao.
---
High jewellers add luxury using subtle, even secret, details
Although it lacks the heft and intrinsic value of gold or platinum – the metals traditionally used to create high jewellery – titanium is favoured by some of the world's most avant-garde designers in contemporary jewellery.
Influential high-jewellery artist Joel Arthur Rosenthal (JAR), for example, introduced this metal to the luxury world in 1987, when he created a mauve bangle decorated with tendrils of gem-set flowers in titanium. In 2002, this piece sold for a then-record price for a JAR jewel at Christie's in New York.
The naturally grey metal, when anodised, changes colour, and with every electric charge continues to form an oxide layer, causing an optical phenomenon similar to the iridescent sheen seen on peacock feathers, butterfly wings and soap bubbles.
"You can obtain brilliantly metallic colours such as deep blues, cognac, browns, greens or pinks, so allowing the colour of the gems you are working with to flow uninterrupted," says London-based jeweller Glenn Spiro of G jewellery. Gemstones play protagonist, he adds. "We don't make the stones, we simply put them in the right places," Spiro says.
G's creations include a magnificent 90.38ct oval cabochon Colombian emerald ring "which has no claws at all – rather the stone is held in place by the tension and strength of titanium with diamonds",
Spiro explains.
The maison's "Fish bone" earrings are lightweight but large. With their exquisite combination of volume and lightness, the pieces take on a three-dimensional shape of delicate, wearable art.
You can obtain brilliantly metallic colours such as deep blues, Cognac, browns, greens or pinks, so allowing the colour of the gems you are working with to flow uninterrupted.
Hong Kong jewellery designer Wallace Chan likes to work with titanium, as he says "it is hard, light, strong, bio-friendly, and colourful".
Titanium is a "very stubborn metal", he adds. "It is not easy to tame. When you bend it, it bounces back." Chan says it took him eight years of independent research to master the technology for using titanium.
---
"It's a very hard metal to work with, and requires the best craftsmen," Spiro says. "It's taken us over 15 years to get where we are today."
---
Naturally, these painstakingly-made high jewellery pieces come at a price.
"The 2017 Black Label Masterpiece XIII 'Winter Leaves Brooches' took more than two years' of engineering," Chao says.
Her "Phoenix Feather Brooch" sold at Christie's Hong Kong Magnificent Jewels auction, in May, for over US$1.21 million, significantly higher than the sales estimated price of between US$618,983 and
US$838,206. "The almost magical weight-volume contrast makes the 18cm long [piece weigh] only 36 grams, or 2 macaroons, the feather pin truly featherweight," she explains.
Jewellers are increasingly incorporating titanium in their designs. Titanium shone bright this year in the stunning Red Carpet collection by Chopard, for example. Chopard's artistic director and co-president Caroline Scheufele collaborated with Chinese fashion designer Guo Pei to create The Silk Road collection.
Among its unique pieces of high jewellery, a pair of Asia-inspired titanium earrings stand out, set with two carved jadeites, emeralds and sapphires. Chopard has also unveiled two new creations from Rihanna Loves Chopard, a capsule collaboration collection with the pop star.
The two multicoloured pieces are a cuff and a pair of earrings mimicking the curves of peacock feathers from the singer's country, Barbados.
Each was created using multicoloured titanium and set with a myriad of colourful gemstones: topazes, tourmalines, tsavorites and emeralds. In its new Maiolica collection, Italian jeweller Chantecler set diamonds, blue sapphires, turquoise and cogolong on gold and titanium for a unique appearance.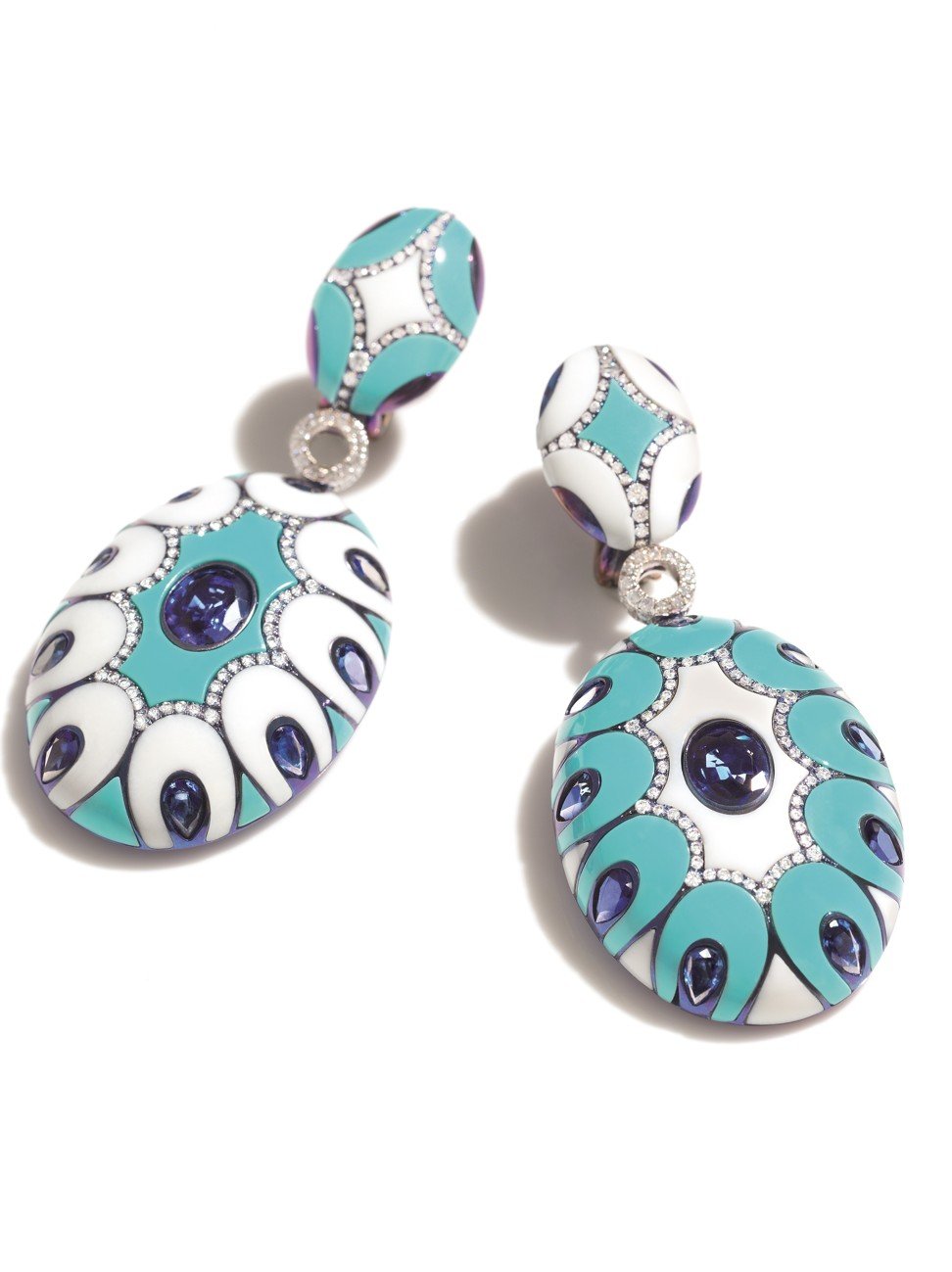 "With titanium, impossibilities are made possible," Chan says.
---
Read More:

STYLE
Joy Lewis